Wednesday, August 17, 2005
The more I see Faizull's performance in the Spectaculars of Malaysia Idol, the more I commend his act. His bravery rather.
The Malay rock scene is indeed something that I know nothing of. Sure, I know some great hits like Tragedi Oktober and whatnot, and I've also seen some local underground bands who play real hardcore Malay rock.
But clad in denim jacket and carrot-cut jeans and his long, greasy hair only makes Faizull look like a "Mat Rock" that we see around town racing on their motorcycles in huge numbers, or hanging around in groups smoking their cigarettes and playing air guitar. And I don't think I'm the only Malaysian who thinks of him in this way when we see his performances on stage.
Did Faizull make it through the first auditions because the management and team behind Malaysian Idol think that they must emulate the American Idol, and that Faizull can play the part of Bo Bice?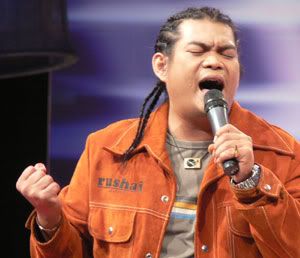 The wannabe?
The real thing?
Rock is good. I mean look at Bo! Look at the countless of rock songs that are sprucing up in the international and Asian music scene! But
kampung
-rock? Faizull really ought to do a more mainstream type of rock.
Nevertheless, I'm sure he has his legion of fans who's been voting for him since he's now already in the top 7. He's sure come a long way. But is this what we really want when we are to send a Malaysian Idol to compete in the International Idol arena?
Anyways.
And oh, I'm a self-confessed Desperate Housewives addict now! I can't believe it! But I've always loved trashy stuff - trashy chic lit, trashy soaps, trashy all. Anyways, so I've heard people ask each other before - who's your favourite housewife? Many would say Susan, you know, cos she's more "normal" and she's rather quirky.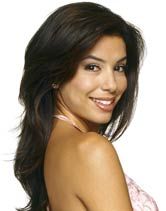 But I think my favourite housewife would have to be Eva Longoria's Gabrielle, the sexy-slutty one. Duh! Like it's any surprise since I said I love trashy anything. I've always had this thing for people of Latino origin, be it male or female. And I like her because she's strong, knows how to get what she wants, and well, of course the bonking your 17-year old gardener isn't quite "nice", but hey, where would DH be without Gabrielle and John spicing things up?
Anyways, while surfing, I found this -
Which Desperate Housewife Are You?
And shucks, I'm an Edit Brit! ARGH!
Posted by Doreen at 5:11 pm