Friday, October 28, 2005
The wonderful thing about being in Malaysia and being a Malaysian is that with all the different races and cultures that we have, the country celebrates many colourful festivities all year round (not to mention the public holidays!)
Sometimes, festivities celebrated by different races happens so closely that the two occassions are celebrated together, this year being DeepaRaya - a union between Deepavali celebrated by the Hindus, and Hari Raya by the Muslims.
It's nice to see races coming together like this. During Deepavali, everyone gets to taste delicious Indian curries, the golab sweets, etc. During Hari Raya, the Ramadhan bazaars sell all sorts of kuihs and savoury food usually only seen during the fasting month approaching Hari Raya. During Chinese New Year, everyone is seen eating mandarins, egg crackers, and children, regardless of race, all run home with red packets in their hands given by their Chinese family, neighbours or friends.
One of the best things I like about our national celebrations is the tv commercials that we see on tele.
Saw that TM Group DeepaRaya ad? That will have to be the best tvc for this season!
A caucasian is seen taking some food from the buffet line at a particular banquet with Malaysia's many other races. As he sits down on his table, he starts eating. A Chinese lady seated next to him told him that it's not time to eat yet and he is seen feeling slightly embarassed. In the next few seconds, Muslim prayers echo and then everyone tucks in merrily.
The next scene sees the same Caucasian attending another housewarming party. After taking his food, he takes a seat at the table and watches everyone in anticipation. In the background, we see Indians, Chinese and Malays all greeting one another, and some already eating and drinking. He is now puzzled. It is of course already Deepavali and/or Hari Raya day, but poor caucasian is still waiting for a signal to allow him to begin eating. The same Chinese lady then tells him, "Today can eat lah!" He mouthed and "Ooh", nods, smiles and then starts eating.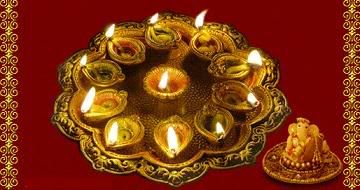 Here is wishing all Hindus and Muslims a Selamat DeepaRaya!
Posted by Doreen at 11:28 am