Thursday, January 19, 2006
The past few weeks at work have been insane. Of course, this week, with JJ's arrival from Taiwan, things are slightly more hectic. Meeting after meetings, running back and forth production houses, press conference, the whole works! But it is always worth the fatigue because there's just so much to learn every day!
JJ is an amazing guy. He's young and fun, and most importantly, down to earth! I think he's cool. It's the second time we're working together, the first being his last promotional tour in July 2005. You'd think a rising young Taiwanese singer like him, with three albums to his name (fourth one coming soon!) and millions of copies of his records sold across Asia, he'd be
up there
, but he's really not, and I think even the production crew found him easy to work with!
JJ was revealed as the ambassador of X.PAX for 2006 yesterday evening at a press conference at Westin Hotel, and I got to emcee the show with Phoebe of My FM again! (We hosted the Promo Tour 2005 press conference together as well). It was definitely fun and rewarding getting to work with such an experienced personality in the industry! We went back and forth bantering in English (me) and Phoebe (Mandarin), and I think we pulled off a damn good show!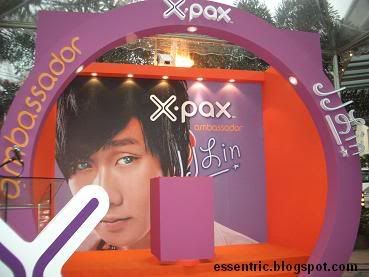 The stage was bright and funky - appropriate for a personality like JJ!
During the show, under the harsh lights, I was sweating and felt the beads of sweat melting away my make-up. But Phoebe is always looking spectacular! No sign of sweat! She must be so used to it by now, with her experience in various live shows and many TV productions. That's something I must try to master - not sweat under lights. But how? Anyone?
But thankfully, the beads of sweat weren't visible on pictures and I looked lovely on TV. Heh.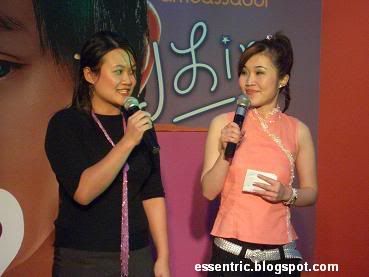 That's me and Phoebe running the show. Look! My purple string of beads is just so X.PAX!
Going behind the scenes of a photo or commercial shoot is an eye-opener. It's my first production with a celebrity! It's not all glam.. they have it hard. He has to make sure he sleeps proper to avoid puffy eyes. He has to submit to the beck and call of the Art Director and photographer, "To the right.. bit more.. no, no.. step back.. yes.. ah.. now tilt your head too.. gimme attitude.. chin higher..."... "Ahh.. that was just a test. Now let's do it all over again.. ah yes.. bend forward... no no.. too much! Go backwards a bit..."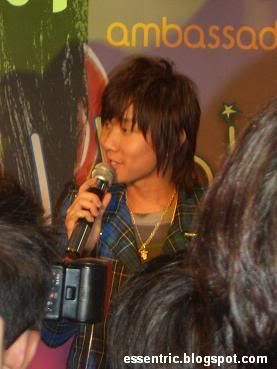 That's JJ at the Press Conference being mobbed by photographers.
Now try enduring that for a whole day. Then repeating the whole process again the next day.
Posted by Doreen at 7:09 pm