Tuesday, December 20, 2005
It's 5 days to Christmas. This year, I won't be going home to celebrate it with the family. This year, it will just be mom, dad, Daphne and Serene, with me here plagued with work and Elaine being in Scotland. This year, mom said she probably won't roast a turkey, and will probably do up a chicken instead.
Well, if you are like me - not going anywhere, not doing anything, and not having extra cash in your wallet to spend Christmas commercially, here are a few tips to appreciate and celebrate Christmas the way it is supposed to be - a time for plenty of love and peace and sincere giving from the heart.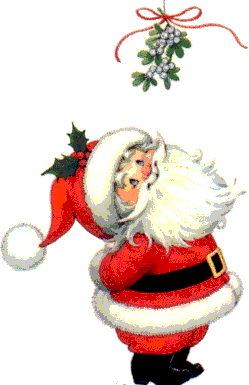 1. Wake up slightly early to cook your partner a hearty breakfast on Christmas day. Avoid running to the nearest dim sum shop or the mamak behind your house for a quick takeaway. That doesn't count. Beat your eggs (or not - if you guys prefer it sunny side up), open that can of baked beans, toast some wholemeal bread and butter it up, let them sausages sizzle in your pan, and for that extra brownie points - prepare freshly squeeze orange juice. It's an easy enough breakfast which can be attempted by members of both sexes.
2. If you're a neat freak, this might scare the living daylights out of you - but do attempt to serve breakfast in bed. Aaah, forget those crumbs and whatnot. I'm sure you're enough of an adult to eat like an adult... yes? Yes, it may not be much of an aphrodisiac, but spoon-feeding your partner some gooey baked beans may ignite some love under the sheets.
3. Serve breakfast to your partner in a barely there Christmas outfit.
Ladies
can try a lacy piece of negligee with some Christmas colours. You can also play with other outfits which carries a Christmassy feel - dressing up as angels is one. Splurging on an angel's dress is probably not a good idea because you are broke to start off with. So maybe a sexy white nightie, with a pair of white knee high boots. If you don't own a pair of knee high boots, try sexy strappy stilettos instead. And you can make your own halo with some shimmery gold paper. Else one of those tacky reindeer horns on a headband works just as well (but beware: that will NOT make you an angel anymore, but a reindeer). What? You need wings too? Why you so
ma fan
? Well, I suggest you skip the wings. I don't know how to make wings. And I would presume buying a pair of wings is expensive. And
gentlemen
, how about a cute pair of Christmas boxers? Yes, just the boxers and nothing else. But however, if you're a bit more adventurous, you could always throw on that pair of thongs, but I think men have a fear of wedgies. Men can also make their own halo, or wear a that headband. And of course, guys and girls, don't forget your Santa's hat! Hmm.. there seems like plenty of headgear to choose from - halo, reindeer headband, Santa's hat... you decide!
4. After breakfast, wipe that egg yolk and baked beans leftover from the sides of your mouth and proceed to give a gargantuan kiss to your partner. It's probably early in the morning and you both probably have not brushed your teeth, so I'll let you decide - will it be a gargantuan peck on the cheek? Or a gargantuan tongue-job?
5. And depending on which kiss you give, the responses will probably vary - if you opted for the peck, well, you might very well get a peck in return. Now if you included some tongue action, you might get more from him/her! Good luck deciding!
Now off you go. Merry Christmas guys!
Posted by Doreen at 9:45 am