Wednesday, November 30, 2005
Growing up, I wasn't much a fan of sweets such as ice cream, chocolates, cookies, etc. Compared to my other siblings, I remembered mom saying once that I was more of a "savoury" person, enjoying things such as currypuff, keropok udang, smelly-salted fish, and other deep-friend snacks and kuih.
But I think I've developed my sweet tooth over the years and it's becoming almost a sin. These days, I absolutely love cookies, brownies, cheesecake, durian cake, chocolates, ice cream, tarts, and many, many, many more of the world's joyous and delightful desserts. Uhmm.. I mean
sinful
desserts.
I salivate thinking about the jar of pineapple cookies which I bought over the weekend, and is now sitting on a shelf in my room (for easy snack access while watching tv at night).
I swallow some saliva in my mouth as I think of the mouthwatering blueberry cheese tart which babe brought for me from his hometown some weeks ago.
In fact, the jar of cookies I made when I went home last, which was meant to be for babe, uh.. I think I ate most of it. Shucks.
The girlfriend and me went to visit a Haagen Dazs outlet recently to indulge in their fondue. Of course, we have been planning for this visit excitedly as she related to me the novelty of dipping pieces of fruits and ice cream into warm melted chocolate.
There were 3 different platters accompanying the fondue - a fruit platter comprising of sliced apples, peaches, strawberries and bananas, a cookie platter which had cubes of brownies, chocolate chip cookies and several pieces of thin, crispy wafers, and lastly an ice-cream platter which had 20 miniature balls of ice cream of a variety of flavours. Oh, and also a small bowl of crushed nuts.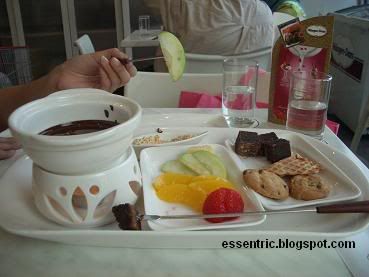 You can't see the ice cream balls because we ate it up before I remembered I had to take a picture.
Priced at RM39.90++, the fondue is only served at the One Utama and Great Eastern Mall outlets - which I didn't quite approve of. Thank goodness I had the sense to locate the contact number of their Sunway Pyramid outlet number, and placed a call to see if they serve the fondue there.
The melted chocolate was quite funny because it started to cake up and harden even before we were halfway through the platters of accompanying "items". It was also, in my opinion,
tak cukup
smooth! So we had to blow off the tealight candle which was heating it up. The apple slices were yellow in certain parts by the time it came to us - bad! And I prefer my strawberries to be plump and juicy. But this was sour. Then again, Malaysian strawberries ARE usually sour huh? The cubes of brownies were heavenly though! Moist and not-too-sweet. I also liked the fact that they served a bowl of crushed peanuts for us to roll our ice cream balls in after dipping it into the fondue.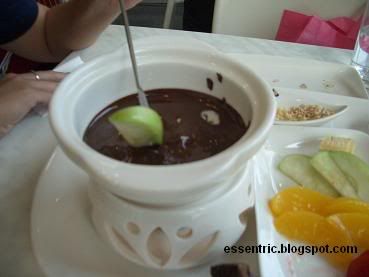 The idea of using "miniature" spears as utensils instead of the conventional forks is nice to look at, but quite frightening - imagine that going down your throat. Or worse! Going through the back of your head! OMFG.
Overall verdict? Just OK. I'd say 2.5 stars out of a 5 (Maybe because of past experience of fondue at Max Brenner).
Posted by Doreen at 4:52 pm