Monday, January 09, 2006
Catching Up On Some Girl Talk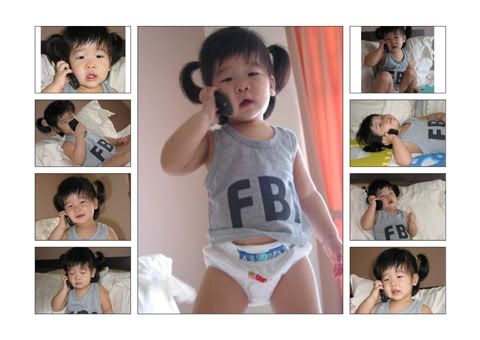 Caught these photos a days back when Jia Wen received a phone call from her girlfriend back in Puchong. They were very good friends when we were still living in Puchong and the would talk over the fences for hours!
God knows what they talked or gossiped about in this conversation but I reckon that they were talking about this other boy who lives 2 roads away. I haven't seen this boy yet but they seem to know quite a bit about this boy. Perhaps they have had some "encounters" with him before and find him "attractive"? I don't know. But this teleconversation went on and on for about one hour. As you can see Jia Wen did change positions quite a few times while talking. Rolling all over the bed, standing, sitting squating. Of course there were laughs and some serious moments during the conversation. From what I gather from eaves dropping is that this boy of the topic is about 3 years old and his father drives a Mercedez S Class and is planning to go to St Nicholas Montessori in USJ.
Oh well, looks like my daughter is starting young. Imagine my phone bill and if this conversation lasted about an hour, imagine how long it would be by the time she gets to 16 years old?!?
Blog entry from
The Star Citizen's Blog
, posted by S.F. Goh.
Posted by Doreen at 10:26 am