Thursday, September 29, 2005
Support your local music scene! It's about time!
Of late I've been kept very busy with the Homegrown Campus Tour 2005.
Homegrown is a weekly programme aired on 8TV on Friday nights at 10:30pm. During the hour-long programme, a different band is featured each week. These bands are what we refer to as underground bands - bands making good music, but are struggling to be recognized by their fellow Malaysians.
Homegrown Campus Tour brings several local bands to various colleges around the Klang Valley - namely One Buck Short @ UCSI on 27 Sept, Love Me Butch @ Monash University on 29 Sept, 7 Collar T-Shirts @ APIIT on 4 Oct and Deja Voodoo Spells @ Taylor's College on 6 Oct. If you're around, do come check out their performances from 1-2pm.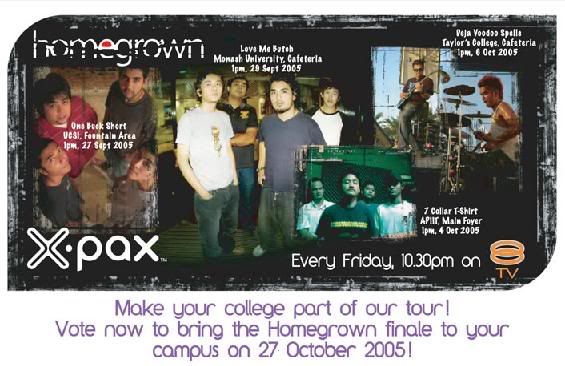 These mini showcases lead to the Finale which will be held on 27 October. The venue is decided by the number of SMS votes which students send in voting for their campus to be the venue where a full Homegrown concert will be held. This concert will feature about 4-5 Homegrown bands all rocking under one roof!
It's not easy working with education institutions I've gotta admit. There are so many dos and don'ts that we have to adhere too, and neither the organizer nor the title sponsor would like to offend anyone right?
Anyways, vote people vote! Now that Malaysian Idol is over, use your credit to vote and bring a Homegrown concert to YOUR campus!

Posted by Doreen at 4:30 pm