Tuesday, May 02, 2006
Hope your Labour Day weekend went well, cos I know mine rocked. No I didn't wake up and find myself naked in bed with Brad Pitt and his erected schlong greeting me from under the covers. Though THAT would be ultra kinky. Think about it - Jolie is about to deliver her baby in Namibia and Brad wakes up naked next to Doreen.
Went to submit my tax returns at the nearest Inland Revenue Board office on Friday morning. Technically, this act itself requires a whole posting by itself because this is my first experience as a tax payer!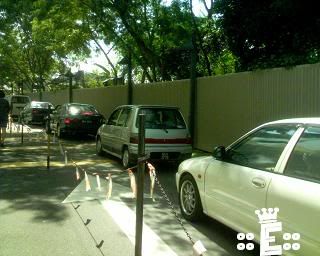 Cars queuing to get into the parking lot of the IRB office at Menara PGRM, Cheras.
I got dad's help in completing Borang BE, therefore the trip to the IRB office was a breeze. I queued for a mere 10 minutes before it was my turn to have the officer check on the completed form. Only a few minor errors here and there, and I proceeded to make payment.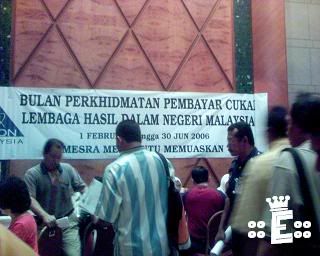 The IRB office is located on the 8th floor of Menara PGRM, but during this peak period being the last few days for submission, they have opened extra counters in the lobby to serve the last minute crowd.
Since this is my virgin trip to an IRB office, I have no comparisons to make with previous years, though I think the amoubt of people there that Friday morning was "aight". Nothing too crazy.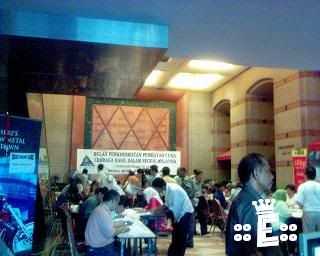 I took me about 45 minutes to complete everything, so I'd say it was a good trip without much hassle.
And I took the rest of the day off from work seeing how things at the office was slow as a few items on our To Do List was still pending approval from various parties.
Caught
The 40 Year Old Virgin
on DVD with Thomas and Jan that afternoon. That movie was DA BOMB! Go get yourself a copy from your local DVD stall.
How best to watch it? Preferably stoned.
"Dude, have you got some weed? Like you know, a whole stash? I plan to just take a few days off from work and just get baked at home. You know, I love to get baked and watch Gandhi the movie over and over again..." said woman.

"Oh yeah! I love Gandhi! Except, I feel guilty everytime I watch Gandhi when I'm baked and I tend to eat a whole lot, and I look at the dude on the tv, and he's so skinny and he ain't got nothing to eat!" said man.
Hillarious!
Anyways, when I emerged from Thomas and Jan's apartment, the sky had already turned dark. Shucks. There goes a Friday.
Somehow I don't quite remember what happened on Saturday... except for what we did at night... Went to some joint in Bangsar to watch the game between Chelsea and Manchester United with Resh and the boyfriend. Another drinking event proudly brought to us by Malaysian Today and Carlsberg. The game was full of shit, and Mourinho can go suck balls. The beer however, was free flowing and I was very happy.
Sunday, we spent in town. It's been ages since I set out on foot to wander aimlessly around Times Square, Sungai Wang and Low Yat Plaza.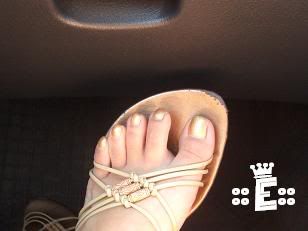 Golden toenails shining in the sun!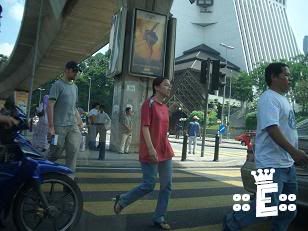 KLites marching to the sounds and bustle of our city.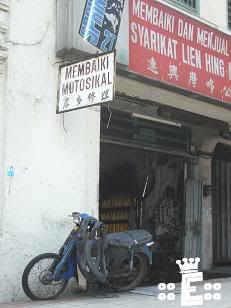 A lone
kap chai
After several hours, the boyfriend and me ended up with 3 items - a T-shirt for me that reads "Fucking Cute!", a giant bag of cotton candy and a skull-head ashtray for the house.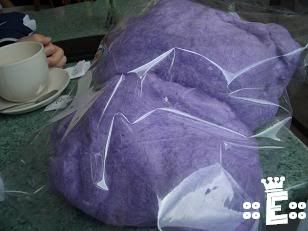 Grape flavoured cotton candy.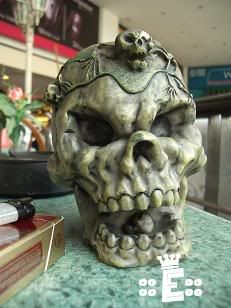 Nasty!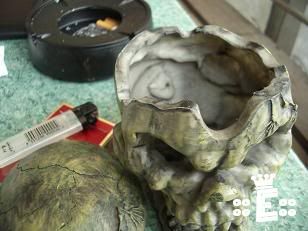 Smokers love an ashtray with a deep crater.
I got the ashtray for RM 19.90 at one of those little shops at Sungai Wang. I don't exactly remember what it's called, but it carries a whole range of wicked stuff. From Halloween masks to little cans of tricks and funny little knick knacks.
We hurried home to deflower The Head.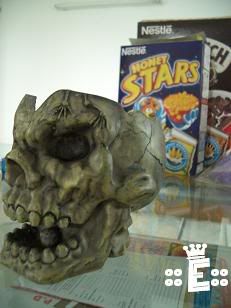 A sinister and evil skull head, juxtaposed against the innocence of boxes of Nestle cereal.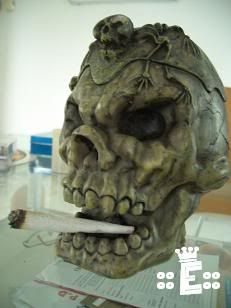 Aaah.. *takes a deep drag*
The Head very sporting leh! Whatever we gave it, it took it without complain!
Then it caught my eye!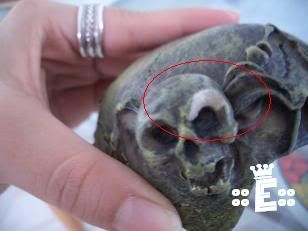 Damn.
Then I started pigging out on purple coloured cotton candy, which resulted in this..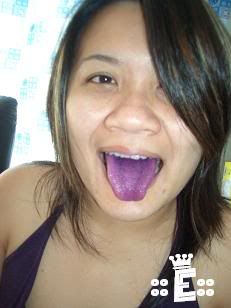 Mommy will be so mad at me! All the colouring!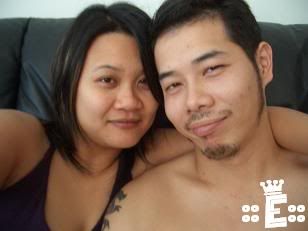 Our teeth turned purple. So we had to smile with our lips closed.
The best part about this weekend?
My housemates are away on holiday for a whole 3 weeks! And this is my first weekend having the house to myself!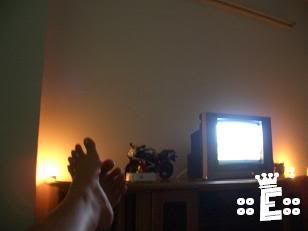 Kicking back after a looooong day....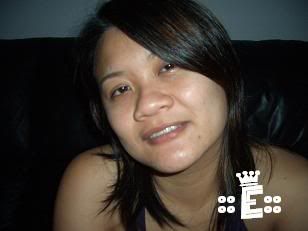 ; )
Posted by Doreen at 9:12 am