Wednesday, April 12, 2006
The
buah salak
is a fruit which is almost rarely (if not never) found in Malaysia. Dad brought a bag of it during his recent trip home from Indonesia.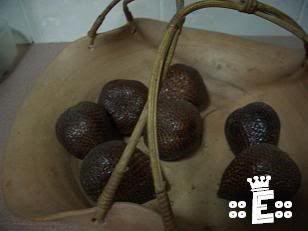 We used to eat plenty of these during our stay in Indonesia and the last time I ate it must have been easily 9 or 10 years ago.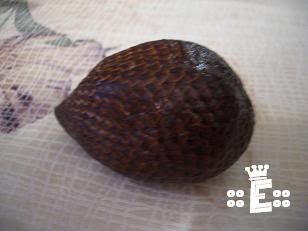 I have no idea what this fruit is called in English, so I'll coin my own -
snake skin fruit
. This fruit is slightly larger than say, a kiwi.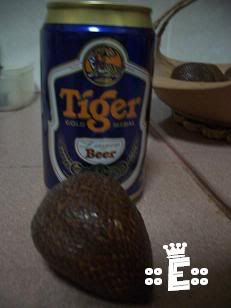 The brown skin which engulfs the fruit is rough and scaly, and is easy to peel off. Once the brown scaly skin is completely removed, the fruit has another layer of thin and transparent skin over the flesh which is easily removed by rubbing at it with your fingers. Almost like peeling off the layer of gel mask which I usually use for my weekly DIY facials.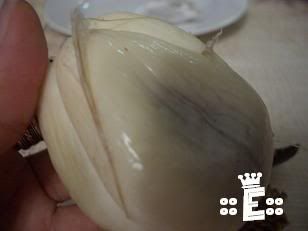 The flesh is crunchy, almost like an apple, except not so juicy. The taste however, is rather unique, a mixture of sweet and sour teasing the tongue. In the core of the fruit is its dark brown seed, which is as hard as a rock.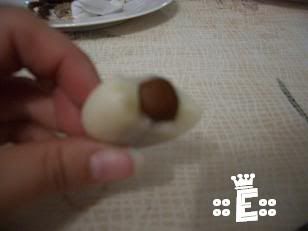 Due to its crunchy and slightly dry texture of the fruit, it is important to chew it up properly before swallowing. And from years of experience eating snake skin fruit during my stay in Indonesia, you must never eat it hurriedly. Wolfing down the fruit will cause a choking sensation all the way from your throat to your chest!
Heh, sounds like a pretty nasty and dangerous fruit no?
Posted by Doreen at 3:27 pm