Monday, March 27, 2006
... peaceful.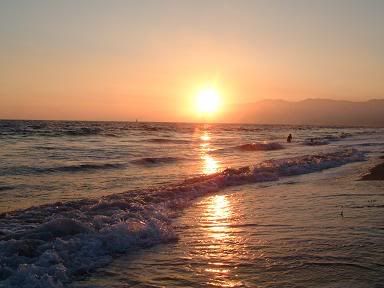 (No I didn't go to the beach, the picture represents peace and serenity OK?)
Some friends and colleagues sometimes still ask me this, "So where's the party tonight?", especially on Fridays and Saturdays. I tell them that I'll just be home catching up on some R & R. Some have yet to come to terms with the fact that I'm a retired party-goer.
Unless it's a birthday bash (birthdays aren't celebrated everyday you see), a hen's night (people don't get married everyday!), or a special occassion (and no, not everything is considered special). There's no more of those "let's go out for the sake of getting sloshed" type of nights.
Despite not having any parties lined up for Friday and Saturday, I still welcome the weekend like a child looking forward to spending Christmas morning under the tree unwrapping presents.
Friday evening, upon returning home from work, I jump out of my heels and work clothes into a pair of shorts and tee, and gather all my hair up with a headband. Then, armed with armour and artillery; a mop, broom, a piece of rag cloth, a pail and some cleaning products, I cook up a sweat in the apartment.
The best part about Friday evening is lighting up a cigarette, catching a breather after my crib has been scrubbed clean. Now that, is S-A-T-I-S-F-A-C-T-I-O-N.
Late Friday night, the boyfriend and I would sometimes drive into Chinatown for supper. Last Friday we went to
Fei Kai's
(literally translated as Fat Chicken) stall for some fried roast pork, double boiled pig's tail soup and a whole plate of
yong tau foo
in sweet sauce. We skipped
fei kai lou's
(fat chicken man) steamed chicken this time round.
Saturday morning I spend doing the laundry, and by noon time, my washing will already be out on the line. And when all that is done, I either retire back to bed, or go out for lunch with the boyfriend and maybe some aimless wandering at the mall for a couple of hours.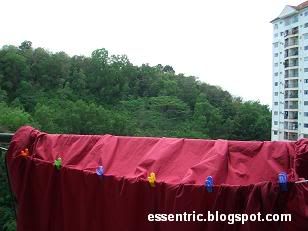 And this picturesque scene is my red bedsheet hanging out to dry, set against the lush greeneries which surrounds my apartment.
Saturday night is ALWAYS soccer night, which means we camp out at the mamak for a couple of hours since I do not have Astro. Instead of beers or bottles of liquor, we now indulge in
teh tarik
or
milo ais
with some good old
roti
. Our current favourite is
roti kaya
and
roti milo
. Roti kaya kicks ass!
Last Saturday I also started this.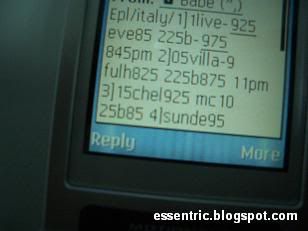 No I didn't gamble, but I got the boyfriend to teach me how to study the odds for the matches over the weekend. Understanding the numbers, the pay-out figures and all wasn't that difficult. I think in a few more weeks I would have gotten a better hang of it. Maybe then I can roll in some income while enjoying my roti kaya? Heh.
On Sunday, we'd usually do brunch, and come back home to spend the rest of the day lazing. We'd draw the curtains, shutting out the harsh sunlight, and stay indoors watching TV, reading and drifting in and out of sleep.
And before I knew it, it was 9am on Monday! Dang.
Posted by Doreen at 3:07 pm