Monday, March 27, 2006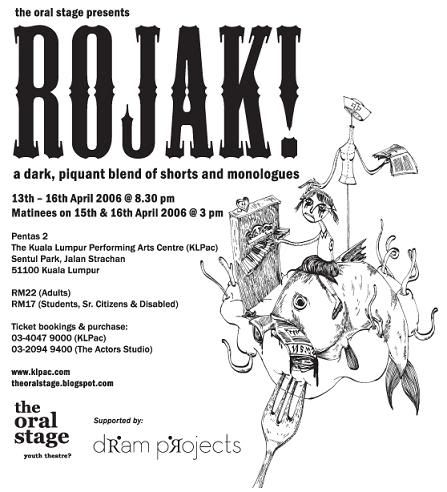 ROJAK! is an original blend of shorts and monologues, tossed with a spoonful of youth and matters close to our hearts. From happy families, sudden deaths, sinking boats to talking mannequins, ROJAK! is dark, gooey and pedas as we Malaysians like it. Every serving includes a generous portion of nuts, on the house.
Presented by The Oral Stage, a non-profit group of theatre-curious youth, who direct and star in their own written plays. Immersing themselves in the theatre experience without lifejackets, they hope to come out alive learning a thing or two. Curently in their second season, TOS strives to make theatre more accessible to the public, mainly young people, through their stage performances and community involvement.
Directed by Kelvin K. Wong and Patricia Low, produced by Reuben Kang. Cast ensemble includes Sharmini Harikrishnan, Dominic L. Luk, Rauf Fadzilla, Lam Wai Yee, Sanjiv Gnaneswaran, Krystle Wong, Priya Kulasagaran, Rachel Lai, Azfar Baharudin, Prakash Daniel, Reuben Kang, Branavan Aruljothi and Emily Yoon.
-----------------------
No they are not paying me to advertise in here. I wish though. Heh. Jokes aside, hats off to Kelvin for keeping The Oral Stage (TOS) well into its second season.
I managed to check out their rehearsal last week, and Season 2 has some returning cast and crew members, as well as a whole new bunch of wacky and talented people coming together.
From punctuality (or rather the lack of it) to the hunger pangs, from shrieks of laughter to Mr. Director trying to get everyone to settle down, it brought back good ol' memories of when I was involved in Season 1, when TOS presented "eight: insert witty tagline here". But they're luckier this time round! They have a proper studio with airconditioning to rehearse at! We used an empty classroom with no aircon.
Top 10 Reasons For Checking out Rojak!
10. Support your local theatre!
9. A healthy spirit of
muhibbah
being celebrated with cast and crew members from all walks of life.
8. I'm not a cast this time round, BUT I wrote one of the monologues (
Me Speak No French
, which was plugged from this very blog) for this production!
7. RM 22 (or RM 17 if you have a valid student ID) is not hard to part with in return for 2 solid hours of good entertainment.
6. One of the cast members, Emily, is afraid of heights. Watch her stand up on a chair in one of the shorts, as she gallantly comes face to face with her fear!
5. If you enjoyed "eight", you will enjoy Rojak!
4. TOS has worked hard, no wait, REALLY hard for this - they even had to organise a garage sale to raise funds to help with production costs!
3. You can bring your girl there and try to slip your arm over her shoulders. Sure you can pay only RM10 and do it at the movies, but she'll love you even more because you're a man of class who digs theatre.
2. Rojak! indulges in a bit of Singaporean bashing, and we Malaysians love that don't we?
... and the Numero Uno reason for checking out Rojak! is....
Trust me, it's good.
Posted by Doreen at 5:07 pm