Thursday, February 08, 2007
Women all over the world should have the freedom to adorn themselves in pretty lingerie. I mean, why do you think beauty is supposed to come from within? It's not the clothes you wear that matters, it's your undergarments! Heh.
I love pretty underwear, racy slips and irresistable nightwear! Needless to say, I am guilty of not wearing pretty underwear everyday. When I'm bloated, a granny-undie helps camouflage the flab. When I have not done my laundry for a while, granny-undies come out too. Or when it's really hot outside, plain cotton ones works best.
And nightwear is something I am over-the-top crazy about!
I have a range of colourful ultra mini pants to be paired with camisoles. I have them in candy, pastel colours such as pink, yellow and blue. They make me feel young and cute.
Then there are elegant, slightly sexy-ish ones... blacks rules this section in my intimates drawer. I have a few pieces of one-piece slips, some opaque, some translucent, some with lace. They make me feel feminine.
And what would I do without cotton house coats? They are excellent for lazing around the house in without being exposing too much skin. But I hate sleeping in them cos they are thick and bulky.
So yesterday I decided to add another item into the drawer, and opted for something different.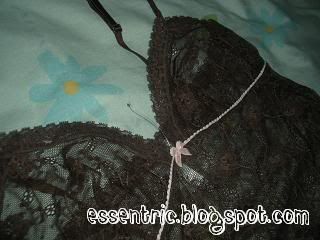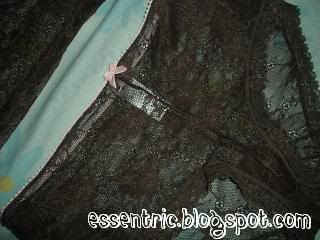 Isn't she gorgeous?
From the moment I tried it on in the fitting room, I knew I had to have it. Maybe I was deceived by the soft lighting in the fitting room and my skin looked pretty and flawless. And also maybe because they used mirrors which made me look slimmer than I actually am. But who cares? I loved it! I don't usually spent RM105 for something I wear to sleep, but because I had a 50% discount card.. it wasn't something I had to think twice.
It's so pretty I kept peering into the paperbag when I was strolling the mall. When I had coffee, I peeped again and caressed the lacy fabric with my fingers. When I got into my car, instead of starting the engine and driving home, I took it out of the paperbag and held it up against the light to study the intricate lacy details. When I got home, the La Senza paperbag was the first I opened. I gently cut off the price tag and tried it on, AGAIN. Hehe.
I haven't worn it yet. To sleep I meant. I wonder if I'll be too excited and to happy and then not being able to sleep in it.
Posted by Doreen at 1:55 pm