Thursday, September 21, 2006
The Oral Stage
is back with its
third season
!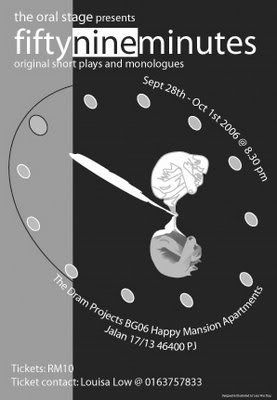 fiftynineminutes.
original short plays and monologues performed within one hour.
"Two friends discover faith, direction and the truth. An actress whom we all like to hate. A bitter past haunts a bitterer couple. A girl finds beauty in ugliness. A man and a woman make love over dinner. A fellow Malaysian makes the country proud. And a group of roommates bring back the dead- all within fiftynineminutes"
When
September 28th - October 1st 2006 @ 8.30 pm
Where
The Dram Projects, BG06 Happy Mansion Apartments, Jalan 17/13 46400 PJ
Tickets
RM10
Ticket contact
Louisa Low @ 0163757833
Yup, I'm in one of the pieces, so please come and show me that you love me?
Posted by Doreen at 9:49 am