Wednesday, May 31, 2006
Happy 22nd Birthday Elaine! I only SMS-ed you at 8am this morning (1am your time in UK). I DID think about wishing you right on the dot of midnight (your time), but that would mean I have to wake up an hour earlier. And I didn't really want to do that. Heh.

Sister dearest, I hope you have an awesome birthday this year! It is your first birthday away from home huh? Well, from your reply this morning, you said you missed home.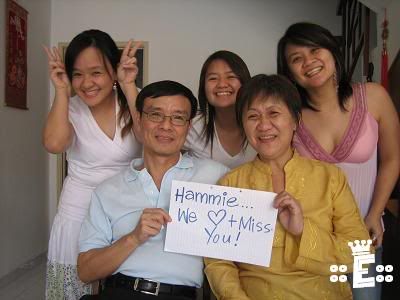 We miss you tooooooooooooooo!
Don't worry! You'll be home for the holidays soon and yes lah, I'll make sure I have your gift ready for when I go home in July.
********************
In yesterday's papers, the topic of having a Disneyland in Johor Bahru came up again. This new venture has been proposed for the new Nusajaya township. Even the PM himself has got no objections with Disney coming to Malaysia.
Sure, it will rake in the tourist dollars and overall, be good for the country in the long run. Of course, as quoted -
"Plenty of homework needs to be done, especially on the financial prospect of attracting regional visitors, if we wish to set up world-class theme parks here.
Malaysians would surely like to see Mickey Mouse in Nusajaya but we believe careful planning and plenty of common sense are needed as massive public funds would be involved, so that no one takes the mickey out of us"
.
Damn right!
Plan dudes, PLAN PROPERLY.
Nusajaya is a suburb located right next to Bukit Indah, and that's where home is for me. Both these townships are relatively new, compared to the older housing developments in Perling. People living in Bukit Indah and/or Nusajaya will have to pass through Perling. Perling is like another town altogether. It has malls, plenty of shops, schools, mosques, temples, market, everything lah!
Over the years, plenty of developments have occured in Bukit Indah and its surrounding housing estates. More houses are being built, commercial areas are fast rising and well, it's a fast booming place!
Then the Gelang Patah/Second Link to Singapore is also accessed via the abovementioned areas, i.e. they have to pass through Perling as well. These days more and more people are using the Second Link to get into Singapore to avoid cramming the already jammed up Causeway.
Sure, it's great and all seeing all these huge projects coming up. But there is a teeny weeny factor that those calling the shots overlooked. And well, this teeny weeny factor causes, excuse my French, big shit.
You see, Perling is an old township. The roads are, you guessed it, small. With all these developments happening beyond Perling, and if the only way to Bukit Indah / Nusajaya / Nusa Bestari etc. is via Perling, god damn it, we need more roads!
These days, getting in and out of Perling can sometimes take up to 45 freaking minutes! And let's not forget the Giant hypermarket which is just at the exit of Perling which makes it even more insane on weekends!
If the roads are going to stay like this, screw Disneyland.
Posted by Doreen at 9:27 am