Friday, March 30, 2007
"Say, 'Aaah'," he told Bibi, who complied. He gave his diagnosis and from his computer produced a prescription. Bibi was looking at the snowstorms on his desk. There was a line of them along the back in every shade of coloured glass. They were arranged by colour, running from clear glass at the far end to a small black dome over a frozen winter garden. He picked out one and offered it. Bibi held in on the flat of her palm and peered at the little lattice-worked tower inside.
"No, no. You shake it." Dr. Azad explained that he had got it in Paris. They watched the snow swirl around inside the glass and come to a peaceful arrangement at the bottom. "That's it." He took it back. "That is like life," he told Bibi. "Remember that is just like life."


"Why?" said Bibi, surprised into speaking. She swallowed with difficulty.
Dr. Azad picked up another snowstorm and shook. "If you are strong, you withstand the storm. Can you see? The storm comes and everything is blurred. But all that is built on a solid foundation has only to stand fast and wait for the storm to pass. Do you see?"


Bibi nodded, so slowly that she might as well have shaken her head.


"And do you know how to make a solid foundation?"
Again, Bibi gave her slow, negative nod.


"Then would you mind," said Dr. Azad, "telling me just how to do it?"
-----------------------------------------------------
Excerpt from

Brick Lane

(2003) by Monica Ali.
Posted by Doreen at 3:42 pm





Wednesday, March 28, 2007
I guess I can do it...
... but I chose the toilet.
So now, I...
... taking a dump in there.
Pffft. Practice taking a dump can you imagine?!
Oh the irony. The 3 alphabets that spell the toilet spells my surname, so I should be a born natural-crapper right? Ah... but practice I still need. Loads of it.
Doreen Loo in the loo.
Hmmm. Maybe I should change the title of my piece?

Loo Talk

? Nice ring to it dontcha think?
Haven't heard about it? Well, it's all about getting some action. Getting
Screwed
that is. You could also check us out right -
HERE
.
We are getting screwed on stage. Every single damn one of us. And you won't ever catch me peeling off my thong in public, but I do it... I mean how else am I gonna get screwed?
See you there?
Posted by Doreen at 2:38 pm





Tuesday, March 27, 2007
Aiyo. So hot. Make me want to kiss him all over and do naughty things to him.
Can't a girl dream a little dream?
Posted by Doreen at 4:25 pm





Monday, March 26, 2007
I almost didn't make it there, because the RM83 tickets which I got at work meant free seating. The thought of jostling with the crowd, all trying to secure themselves seats did make me think twice.

Well, I must say that I'm glad I went.
The
3 Diva
concert held at the Putra indoor stadium last night was
da bomb
.

It all started on a good note because the 3 divas didn't act like divas at all. They didn't make the audience wait for them for like, 100 minutes or something. The show started promptly at 9pm, only a 30 minute delay - which by Malaysian standard, is commendable.

From where I was seated, at the upper tier, the singers looked like a couple of roaches running around the white stage. So for most parts of the night, my eyes were glued to the projector screens suspended from the truss above. So I apologize for the absence of photos. I didn't even bother.

Kris, Ruth and Titi looked really good. Then again, who wouldn't? Designer dresses, top-notch stylists to make your face and hair look impeccable, elegant bling bling... heck, even Camelia Parker Bowles would look good with that kind of budget lah!

Must give credit to stage designer. Very impressive.
I particularly liked how the orchestra pit was constructed. An black oval depression of about 2 feet depth, surrounded by a white frame.
The opening gimmick, a short graphic-oriented video presentation, with the 50-piece orchestra providing live music, culminated in a hair-raising climax where the 3 Diva logo was displayed using the LED.

The trio paid tribute to Sheila Majid and Siti Nurhaliza by perfoming a medley of songs by the former two Malaysian songstress. The cameraman loved zooming into Sheila and Siti when their songs were being belted out. The crowd went wild every time the camera captures Sheila or Siti. I don't get that part. Like.. what?

Oh, Tun Mahathir was there with his wifey too. The crowd roared even louder when they saw him on the projector screen. And apparently, a whole host of other

up there

folks, ranging from celebrities to royalties judging from the line-up of luxury cars with single digit number plates, right outside the stadium. We saw a few Bentleys, a Jaguar and plenty of Mercedes.

Had to beat the crowd by leaving early.
But for the 1.5 hours I was there, the 3 Diva delivered an excellent show. Their voices were so different, but yet so powerful as one. My only gripe is that for certain songs, the 50-piece orchestra obviously drowned the vocal performance.

The song that got me hooked to Kris,

Menghitung Hari

, didn't quite work. I have been dreaming of the day to see Kris perform this number live. But last night's delivery just wasn't it. Just wasn't what I had been anticipating. I expected shivers down my spine, hair on my neck rising, something that would have gotten me to give her a standing ovation at the end of the song. But nothing of that sort happened. Maybe the arrangement of the song didn't quite work for me. Oh well. I also wanted to see her perform

Mencintaimu.

She didn't. Maybe only towards the end after I left?

That Titi DJ was quite something too. Never heard of her, but apparently she's huge in Indonesia. Ruth was all sweet and lovely. I love the huskiness in her voice, like... *roarrrrr*

Anywaaaaays. It was a good show. A good night.
Posted by Doreen at 9:18 am





Wednesday, March 21, 2007
We were taking a break during rehearsal; seated outside the Dram with cigarette in hand. With a beer in hand, Nick started telling me about the upcoming short film which he will be producing.
Gary came out. We huddled together, making space for Gary to join us on the
kaki lima
.
What? Don't give me that look!
Pavements and curbs have been glamorized because of people like us OK! Didn't you know it's now cool to hang out on roadside pavements?
"So right, the rape scene has to be sooooo real, victim baring tits and all,"
cooed Nick.
"How to find someone who wants to bare tits in an indie film?"
I probed.
"You know what would be the ultimate horror role for me?"
asked Gary rather suddenly.
"Me eating pussy!"
In verbatim.
"Imagine, gun pointed to my head - you! EAT IT!!!"
and he gasped, eyes widening with horror and utter disgust.
So if you are a chick who wants to bare your headlights in an Indie film, let me know. I'll hook you up with Nick.
Or, if you're a guy who thinks eating cat is gross, let me know. I'll hook you up with Gary.

Ah... special people like me are blessed with special friends!

Posted by Doreen at 1:08 pm





Tuesday, March 20, 2007
Did you sleep well last night?
I did.
A baby died of pesticide poisoning, and the best part was just about to come, when the rain slashed down with such vengeance. And we all know what happens next.
Time to retire anyway, it WAS past midnight.
Have you ever been told to not run in the rain lest you get wetter? It seems that it's better to walk at a normal pace than to make a mad dash when it pours.
Things I learn from the Idiot Box.
Moisture was collected from two sets of clothes - one from someone who ran in the rain, and the other, who walked at a normal pace. And guess which set of clothes contained more moisture?
Voila.
Running in the rain shortens your exposure to rain water, so obviously you are less wet. Duh.
Your mother probably said you'd get wetter because she didn't want you slipping on the wet roads. Go figure!
And you thought (for once) you are smart, telling your friends or colleagues,
"Oi, don't run leh! Run liow can get wetter oneee!"
Anyways, did you sleep well last night?
I did. And with such warmth and comfort.
The rain washed it all away. Everything that was bad, everything that was old, everything that was disturbing.
A brand new start to 26.
Posted by Doreen at 9:35 am





Thursday, March 15, 2007
The Grand Sale is happening at AirAsia.
For a mere 30 cents, you can now fly to many locations nationwide, including some international destinations such as Yogyakarta, Surabaya and a few others.
What a steal!
But the man in the glorious red cap had to cut on expenses elsewhere to be able to offer this promotion.
And the budget is being slashed from....
ADVERTISING!
Where goes the red page?
Posted by Doreen at 12:41 pm





Wednesday, March 14, 2007
I drink a lot of coffee.
When stuck in the office, the good old 3-in-1 Nescafe keeps me going. The Rich range rocks. It's the one which comes in green packaging. Nestle should have introduced this a looooong time ago. It makes the red one taste like horse piss now.
I was thinking of the "
once you go black, you never go back"
line, but then realized that
green
does not rhyme with
back
.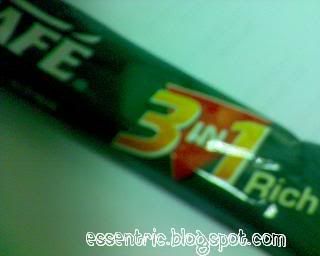 Once you go green, the light you have seen!
Come the weekend, I am often guilty for spending money buying lattes from the green coffee giant. I pray that Berjaya don't decide on another outlet right outside my office, seeing how the tenants of neighbouring eateries and cafes have been doing well with the thriving student community present. I'd be spending a bomb just on beverage consumption!
So you probably already know that I fancy my Starbucks very much. For RM10 a pop, I'd say it's money well-spent. I never go by one week without at least a cup of grande latte, either hot or iced. On the rare occasion that it happens, I'd drive out irregardless of the time of the day when the coffee pang strikes.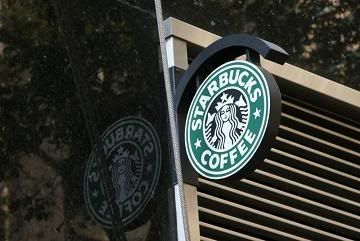 I remember one weeknight, I drove out to the nearest Starbucks at about midnight to get my dosage. I saw that the chairs and tables at the al fresco area had been cleared - they were closing! I ran, oh God how I ran. My disheveled hair, ragged shorts and T-shirt flailing in the wind behind me.
"A grande latte, an extra shot in that please..."
I said to the barrista.
"Miss, you need caffeine to sleep huh?"
I mustered a very weak smile. No mood for entertaining nonsensical questions now. Just
please
make me my coffee!!!
So we were at Starbucks KLCC over the weekend, with our Dunhill, lattes and chicken pie (they were very good by the way!). He was reading the papers and I was just, uh.. looking around lah,
mencuci mata
behind a pair of oversized shades. Hah! See, girls do it too OK!
After a while, my eyes rested upon the the sign outside the shop. And for the very first time, after a gazillion cups of latte - I wondered about the logo.
"Do you know what's that thingie on their logo?"
I asked him.
"A mermaid?"
he replied with a shrug and went back to reading the papers.
"What's the connection between a mermaid and coffee?"
He didn't reply. I wasn't expecting one.
"Oooh, I'll read it up and then can blog!" and quickly scribbled
Starbucks logo
on a notepad which I carry around.
This is how the original Starbucks logo looks like...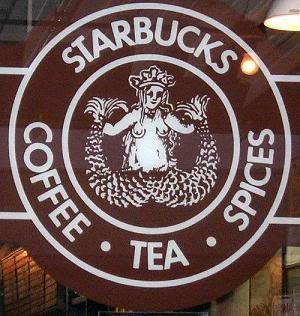 But obviously, this cannot be politically correct because the titties are hanging out. I don't think Starbucks would ever reach Malaysian shores if the logo remained the way it was.
Anyways. The logo features a two-tailed mermaid,
Mixoparthenos
, a siren in Greek mythology. And to answer the question "What has a mermaid (one or two-tailed) got to do with coffee?"...
No, mermaids aren't big fans of coffee.
But rather the siren is supposed to represent the sea-faring heritage of coffee, and because mermaids come from the sea (duh!) so voila!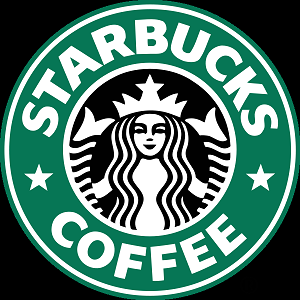 And what's a global brand without some global names? Here are a few from Wikipedia -
Arabic-speaking countries: ستاربكس
China, Taiwan, Hong Kong: 星巴克(Pinyin: xing ba ke) 星 (xing) meaning star, while 巴克 (ba ke) is a tranlisteration of "bucks".
South Korea: 스타벅스 transliteration (ss ta buk ss), often used in conjunction with the English name
Japan: スターバックス transliteration (su taa ba -- ku su)
Thailand: สตาร์บัคส์ transliteration (sa taa bak)
Posted by Doreen at 3:02 pm





Tuesday, March 13, 2007
I like how the new Honda CR-V looks.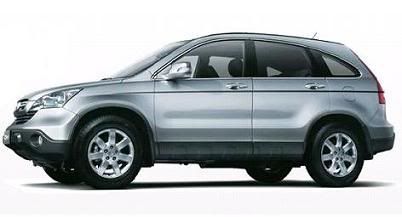 Rather sexy don't you think? This all-new, completely redesigned and re-engineered Comfortable Runabout Vehicle is bigger, tougher, but yet still exudes a certain feminine charm. She's a curvy hoochie-mama eh?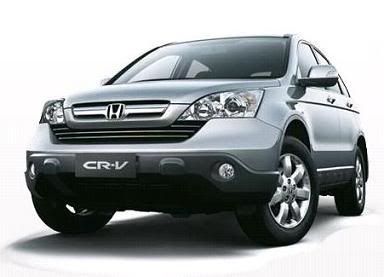 Big SUVs offer people the stability, because it's heavier. Good for long-distance travelling, speeding up and down the North South Expressway for example. However, SUVs being all tall in height can sometimes result in a rather bumpy ride.
Therefore Honda has taken to lowering the centre of gravity by 35mm, and widening the track by 30mm to provide that sedan-driving comfort. So lesser incidences of your new CR-V tipping over onto one side when taking a nice, sharp corner.
Oh, but get this - the body shell weight of the CR-V has been reduced by 31kg compared to its predecessor. But Honda said that this is compensated by extensive use of high-tensile steel which stiffens the structure. (OK... if you say so!)
The interior... roomy! I hardly ever ferry passengers, so all my space in my current Kenari is used for storage - shoes, jackets and cardigans, water bottles, books and magazines, slippers, the odd hanger or two, folders and posters from events, loose cosmetic items such as eye-liner, compact powder, pots of eyeshadow, and some left-over premium or something or the other from another event - I've got the lot. But this CR-V is ultra fascinating (from what I read that is) in terms of space!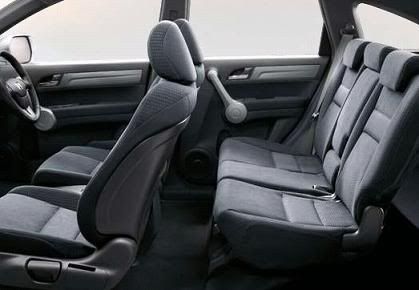 Hello! 2 mountain bikes can go into the boot area leh! Quite the power ya? But if you don't have mountain bikes to stow, the boot area can be a double-decker storage compartment.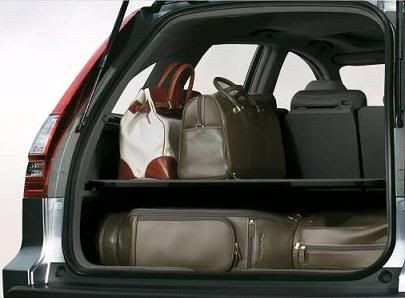 Super neat. Me like.
Oh, instead of the fifth door opening outwards in the old CR-V, this new door opens upwards. I still prefer the old one though. Makes it unique. All other SUVs have their fifth door open upwards anyway.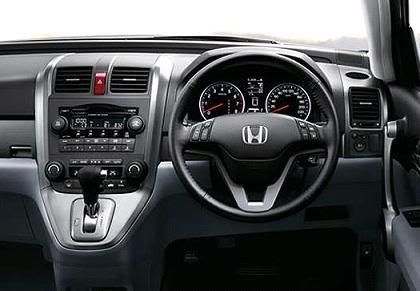 Other stuff include cruise control, dual zone airconditioning (passenger and driver can have different temperature control), 6-disc changer with MP3 player, double level glove compartment (wah!), and no less than 20 storage areas INSIDE the cabin, among the list.
OK, here's where I'm not quite sure. It's running on a 2.0L engine. For something that weighs over 1500kgs., this is rather slack OK! We're already complaining that the Accord 2.0 VTi which we have at home has no pick up, this CR-V sure lose when getting set to take off after the lights turn green.
Anyways, who am I to complain so much? I drive a Kenari for crying out loud!
But fret not, the new CR-V is just gonna cost you RM 147,800 on the road.
Honda is targeting an annual sales volume of 3600 units, and it allegedly isn't hard to reach. Damn rich lah you all! *eyes you suspiciously and filled with jealousy*
Posted by Doreen at 10:10 am





Friday, March 09, 2007
Alfie
by Lily Allen
(Download song -
here)
-------*0*---------
Oooo deary me
My little brother's in his bedroom smoking weed
I tell him he should get up cos it's nearly half past three
He can't be bothered cos he's high on THC
I ask him very nicely if he'd like a cup of tea
I can't even see him cos the room is so smoky
Don't understand how one can watch so much TV
My baby brother Alfie how I wish that you could see
CHORUS
Ooooo I only say it cos I care
So please can you stop pulling my hair
Now, now there's no need to swear
Please don't despair my mon frère
Ooooo get up Alfie it's a brand new day
I just can't sit back and watch you waste your life away
You need to get a job because the bills need to get paid
Get off your lazy arse
Alfie please use your brain
Surely there's some walls out there that you can go and spray
I'm feeling guilty for leading you astray
Now how the hell do you ever expect that you'll get laid
When all you do is stay and play on your computer games
CHORUS
Oh little brother please refrain from doing that
I'm trying to help you out so you can stop being a twat
It's time that you and I sat down and had a little chat
And look me in the eyes take off that stupid fitted cap
CHORUS
Please don't despair
Please don't despair
Mon frère
-------*0*---------
The weekend is here! Happy Weekend peeps! Enjoy your Saturday and Sunday - I know I will!
Posted by Doreen at 1:12 pm





Thursday, March 08, 2007
Oooowwww!"
yelled the Scouse seated next to me when Sissoko's long range attempt had the ball hit the crossbar. In despair, he raised his fist and punched an imaginary something in the air.
We had just nestled ourselves comfortably on the couch, nice and fresh out of the shower after a long day at work.
"Quick, quick, ESPN... see if they're showing last night's game,"
said the man when I made a grab for the remote control.
"But Heroes is on..."
. My fingers obviously did not take my words to heed as they promptly found the 8 and 1 buttons on the remote.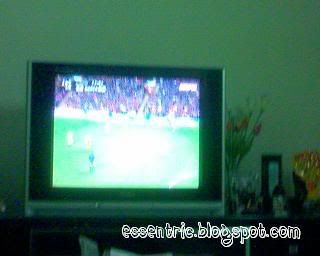 The house still had an abundant supply of Chinese New Year goodies. And so our night began.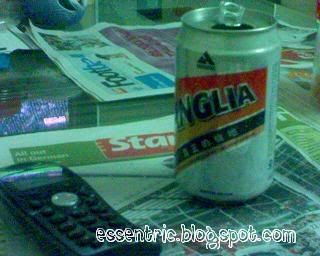 The claypot chicken rice we had earlier made us uber thirsty, so out came the Shandy.
What's a good night of tele without something to munch on? So I reached for the almost empty jar which contained some pistachio nuts, began cracking them open, happily munching away.
So tough to crack open, but yet so delish.
"Good things don't come easy,"
I reminded myself.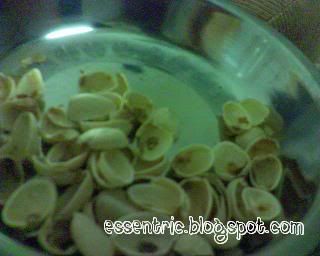 When Kuyt landed on top of Thuram, I let out a chuckle. Kuyt must have found it quite funny too, cos I think I saw him grin a little when he was getting up, easing his crotch up from the back of Thuram's head.
I was down to the last few nuts when it happened.
One pistachio nut decided that he wasn't going to let me have it easy...
... and I broke my nail!
What's a woman with a torn nail to do?
I ate
that
nut with a vengeance.
Ladies - don't ever take the violence. Stand up for yourself. Happy International Women's Day girlfriends!
On another note, someone's been googling for some rather disturbing things, and thus found their way to my blog...
Posted by Doreen at 9:30 am





Wednesday, March 07, 2007
I'm turning 26 this month.

*sad*
What goes up and never comes down? Age. And there's really nothing I can do about it huh?
Oh well. Just let me grow old healthy, wealthy and most importantly - gracefully. Even if I cannot prevent wrinkles and sagging boobs.


5 Things I'm Actually Quite Proud Of (and also feel blessed about)
Ten years since I've moved out of home. At 16, a lot of my peers were still living at home with mommy and daddy, but I was lucky to be given this freedom at such a young age. Sure, I abused it. Like every other teen on the block. But you know what? I've always regarded it as a blessing in disguise. I started young, but I also gained it young - being independent, ability to take care of myself and to kick ass when the need arises, to stand up for what I believe in, and to appreciate my family even more.

Being a KL-ite. If there is one place I can call home - it would be KL. Born in Penang where we only lived for a couple of years, moved on to outskirts of Jakarta for 2, Melaka for 2, Johor Bahru for 5, Alor Setar for 1, Jakarta for 4, and now Johor Bahru is where the parents have bought a home. JB city itself bears no significance to me. After moving about so much, KL has been home for the last 10 years. Heh, now I just need a piece of property in KL to my name.

A good family and parents who have provided me with the 2 most crucial things which have made me who I am today - good upbringing and education. I wasn't exactly an A student, but what I lack in academia, I make up for it with a mixture of integrity, personality, confidence, and charisma - something which I thank Dad's genes for.

Have savings - FINALLY! I no longer go into negative at the end of every month and having to live from paycheck to paycheck. For the past few years, I've never had any money left come the 30th, and savings is something unheard of. Maybe it's because of the salary increment over the years, maybe it's me finally learning how to be frugal and understanding the importance of saving up for rainy days. Either ways, I'm glad.


That I have a vagina and not a penis. Really! At least when people tell me to think, I know which head to use, I mean, since I've only got one right? Unlike them who have got penises. Poor things. Many a times they get confused and end up thinking with the wrong head. So I'm proud being a woman. I love being a woman. I want to come back in my next life as a woman. Being a woman rocks. ROAR.

5 Things I'm Not Proud Of
Ignored Amaran Oleh Kerajaan Malaysia - Merokok Membahayakan Kesihatan. With no resolution to quit at this point in time makes it all the more disgusting. But, but... coffee and beer would taste shite, taking a dump would no longer be fun, no pick-me-up on a sleepy afternoon at the office, and I'd have to chew on my fingers after each meal. Sigh... this year would mark a decade long of my nicotine addiction. Ouch.

Not being able to read and write in Chinese. There's no one to blame but me because those damn POL classes that mom sent me to were meant to be taken seriously! As I grow older, I can now fathom the importance of embracing, appreciating and respecting one's culture and traditions. I am Chinese - mata sepet and all.


I cannot bleeding fit into an S-size dress. 'nuff said.

Not going home as often as I should. The parents aren't getting any younger... and they won't be around forever *gulps*

I'm a worry-wart. Honestly. I think too much. And really, life is stressful enough as it is, so I shouldn't really be adding more pressure onto myself right? But noooooo! I think about this, about that, about what-ifs, about everything. Even when I'm high - and I'm supposed to be

layan

-ing the high, and sometimes I still end up thinking about serious stuff.
Posted by Doreen at 1:48 pm





Monday, March 05, 2007
So I'm deeply depraved AND perverted... and I'm supposed to recite random passages from obscure texts? Erm. Is the Karma Sutra obscure enough?
Posted by Doreen at 9:43 am





Friday, March 02, 2007
Heh. Imagine if I wrote "Of Sohais
AT
Anfield"!
Can someone tell me what was up with yesterday's massive, massive, MASSIVE traffic congestion which literally resulted in a near standstill of cars all over the Klang Valley?
We took 120 minutes to drive from Cheras to Section 17, when on a good day, all is needed is about 30 minutes.
Had to be at The Dram at 7pm last night, and promptly bundled Mel and Prakash into the car sharp at 6pm, and we left from Cheras. At 6:30pm, Midvalley Megamall was still no where in sight, and the traffic report came on.
Cheras to Midvalley took us a whole solid hour, when on a usual day, it takes us 12 minutes (yup - proudly tested and proven! ). The crawl lasted all along Federal Highway, continued even after we turned off at PJ Hilton and right up to the Rothman's roundabout where cars were squeezing and manouvering in from all 4 directions.
We eventually arrived at our destination a little shy of 8pm. That's 120 minutes of my life wasted. It usually takes us 30 minutes to get there.
Oh, the traffic report? It was pointless.
Priscilla Patrick came on and ranted about Penang, Johor and other places which were of no concern to us. Until we heard this -
"There is an unusual crawl along Salak South highway, resulting in a backlog all the way onto the Connaught Highway. At this point in time, there is still no information on what's causing this congestion, and the cameras installed along the Salak South Highway are not functioning because naughty people have stolen the cables".
Yay! Malaysia Boleh! Gambateh!
Nooooootttt!
Kanina sohais!
On another note - I'm due in Ipoh this Sunday for work. The initial plan was to leave KL on Sunday morn to make it for the lunch affair up North. Then the Client decides that it would be too taxing on her to rise and shine early on a Sunday morning for travel purposes.
"Do you think we can leave on Saturday night instead? At least we can sleep in on Sunday?"
she asked.
"Erhmmm...",
came my hesitation.
"Oh you have got something on is it?""Erhmmm... yeah..."
said I.
"Dinner is it? OK lah, I wait for you and we leave after dinner OK! 10pm at my place.."
she said hurriedly, without giving me any space to interrupt.
Stupidly, I mumbled consent.
Dammit. Now I will have to settle with only watching the first half of the game at Anfield this week.
Quote from an article entitled
More Than A Little Envy
in today's STAR's Football supplement -
Steven Gerrard on Wednesday revealed a grudging admiration for Manchester United's commitment to playing stylish, attacking football before admitting that Sir Alex Ferguson's side could effectively secure the title at Anfield tomorrow.
"They'll be coming looking for maximum points because that would virtually win them the league," said Liverpool's captain...
Unquote.
An Anfield supporter will say that Gerrard was being humble, noble and all that. An Old Trafford one will snigger and say, "Takut ah?"

Kuyt was more a bit more positive though, "I want to score and beat Manchester United."
Posted by Doreen at 10:37 am